Fans who desire the best for the musician have expressed their worries and urged him to revert to his previous musical persona in order to make an impact in the industry both domestically and internationally.
When listening to King Fidelity's music, which has recently drawn criticism, it's simple to spot Wizkid-inspired elements. However, some admirers worry that the artist's uniqueness will be hampered by this replication. They advise King Fidelity to preserve the distinctive personality he once distinguished himself with during his time as a copyright with bands.
In a Facebook post, a fan wrote;
"Wizkid Vibes – had time to listen over and over again on this song, "My Favourite Song" by @KingFidelity, is @Wizkid with dollar-store swag. But those vocals? Straight fire! Ditch the wannabe act and rock your own killer sound. Did you really think we wouldn't catch on? You're lifting Wizkid's style like a wannabe Houdini swiping wallets. I mean, it's so blatant, I'm not gonna lie – I'm vibing with the vocals. @KingFidelity your new song "my favourite" is good and I love listening to all your songs but what I hate most is when copying someone. @kingfidelity you copied @wizkid on your new song (my favourite), stop copying wizkid! be yourself! copying @Wizkid, @Davido, @Burma boy or any artist will not help your music career!"
"This is my humble advice to you as your fans sir. Show us the real deal, We're down for your."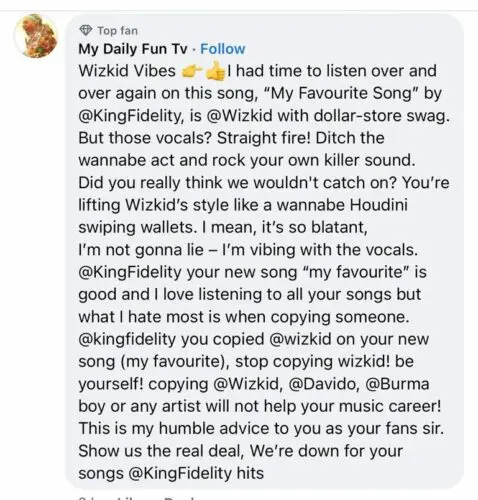 Before this, the 'Afrobeats' singer expressed in an interview that he doesn't perceive any issue with being associated with Wizkid. Instead, he views it as motivation to push himself further and surpass the achievements of the Nigerian star.